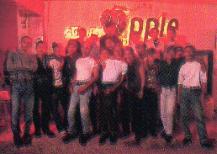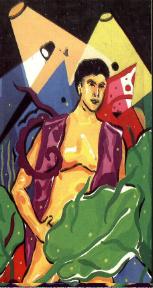 Adam's Apple Club is the largest men's club in the North of Thailand, centrally located off Chotana Road, close to the Manakorn Theatre and opposite the famous Lotus Hotel.
There are four floors of male entertainment. The Romantic Restaurant and Pub is located on the 1st and 2nd floors. It opens at 7:30pm and does not close before 4:00am. The Adam's Apple customer can choose between a good, delicious meal of exotic Thai cuisine, or appetizing Western meals and healthy salads, or he can meet with friends over a wide range of soft beverages and alcoholic drinks.
The pub also offers a comfortable reading lounge with a wide range of fashionable magazines on its 2nd floor, where you can relax with a friend to the sounds of soft music. This lounge can also be rented for private gay parties, and catering is also available.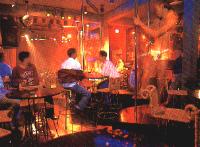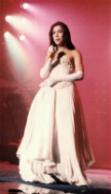 The host bar is located on the 3rd floor with its over 40 hosts who entertain you every night from 10:00pm until 1:00am. Lively go-go dancing has all the boys swaying to the latest hits in disco music -- and be sure not to forget the nightly eye-catching show!
Adam's Apple Club offers even more! For Karaoke lovers, the Karaoke Lounge opens at 10:00pm on the ground floor. A wide selection of English, Thai and Chinese songs are available to choose from.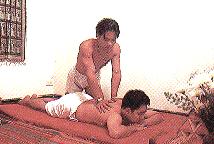 For those who wish to relieve their bodies from the pains and aches of an exhausting, long day, nothing is better than a Thai massage in the privacy of a clean room with private bath. You can choose between a traditional dry or oil Thai massage by a boy masseur.
Since its opening, Adam's Apple Club, with its

fully air-conditioned, beautifully decorated spaces and a wide variety of entertainment choices, has quickly taken its place as the number one male entertainment center in the North. Gathering under its roof is a wide range of handsome clientele and beautiful people who come every night to meet each other and have hours of fun. A first time trip to Adam's Apple Club will not be your last!
132/46-47 Soi Viangbua
Chotana Road
Chiang Mai, Thailand
Telephone: (53) 220-380
Persons under age 18 are not permitted

We accept Visa and MasterCard

For the latest information on the gay scene in Chiang Mai, visit www.chiangmaigossip.com